Events in Hawke's Bay
Fill up your calendar with all these amazing events coming up in Hawke's Bay, through this link to Eventfinda. To find out how to list your event see Eventfinda.
These listings do not include exhibitions or workshops. You can view these by selecting them on the menu to the left of this page.
Peter Barry Stockcar Teams Championship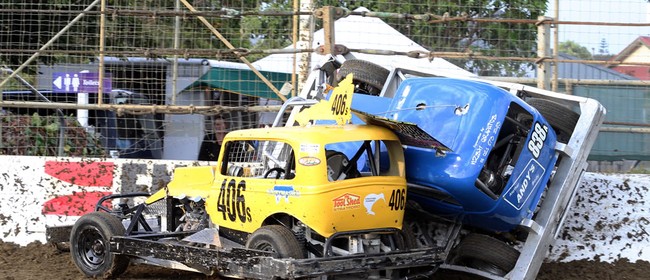 Exciting Stockcar Teams Racing from the drop of the first flag.

This is Wild! The meanest ten Stockcar Teams from around the country are determined to destroy their opponents. Will it be a local stockcar team or will one of the visiting teams from Gisborne, Rotorua, Auckland, Palmerston North, Wanganui, or Wellington who take the trophy home! I am sure the Hawke's Bay drivers will make sure their Championship doesn't leave town.

Other classes racing for the East Coast Champs are SuperSaloons, SuperStocks and TQ Midgets.
To finish the Event there is a $1000 "Winner Take All" Stockcar race.

This spectacular stockcar Teams Racing event in memory of Peter Barry is supported by Napier City Council. Get your friends and family together and head to Meeanee Speedway for a night to remember. Food available includes Chips, Hot Dogs, Fried Chicken, Pizza, Baked Potatoes and Hot Coffee or Hot Chocolate

7 and under enter free.
When
Saturday 20 April, 6:00pm to 9:30pm
Cost
Where
Meeanee Speedway, Napier, Hawke's Bay / Gisborne
Sandy Road, Meeanee, Napier, Hawke's Bay / Gisborne